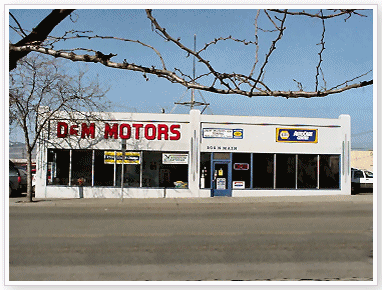 We've been in business for over 50 years... since 1963! Not many businesses can make that claim. What's more, our staff has over 80 years of combined experience.
What does that mean to you? It means that D&M Motors can fix your car or light truck right the first time! And it means you don't have to go to the trouble of taking your vehicle back to the dealer when D&M Motors can give both you and your vehicle better, more individualized and personalized attention!
D&M Motors is a family owned and operated business and we're proud to have been an integral part of Ellensburg for so many years. We love our town and and we love being a part of the community spirit that makes Ellensburg such a great place to live and work.
We're open from 7:30am to 5:30pm, Monday through Friday. So whether it's just a minor maintenance service needed or you've discovered those new cars are just too expensive and it looks like it's going to be "cheaper to keep'er"... D&M Motors can help.
Please take a few minutes and browse around our site and let us introduce you to some of the benefits that we offer. And thanks for visiting!

To make an appointment for your vehicle, please call our Service Department at 509-925-4151.
D&M Motors and Towing
205 North Main
Ellensburg, WA 98926
509-925-4151



Major Credit Cards and Local Checks Accepted